How to backup my iPhone files to Cloud?
It used to be an incredibly complicated process for which Apple users had to connect their devices to a computer that had iTunes and only then they were able to transfer data and backup their iPhones, iPads and iPods. Nowadays, Apple developers have completely changed the process so that their users could backup their devices without any computer host needed, but simply using the Cloud. iCloud doesn't require any other applications or software to perform the backup, unlike other platforms. It also does not create a partial data backup (unlike Android) but rather fully and dynamically synchronizes it.
Log into iCloud
First of all, make sure you are logged in your iCloud account. You would usually do that when setting up your iPhone but just in case go to Settings, and then choose iCloud. If you are not logged in make sure to do so because otherwise you would not be able to backup your iPhone.
Logged in? Now it would be very easy to continue with backing up your phone.
Complete the iPhone backup itself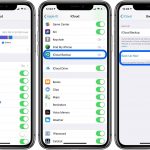 First of all, go to Settings and navigate to iCloud. Then scroll down to check if the Backup is set to be on, if it is not, click on the button and move the iCloud Backup bar to activate it. There will also be a brief message on what backing up your iPhone implies. You will find out that by doing so you save all your device settings, all app data (including Health app and HomeKit configuration data), all messages, Home screen, app organization, and location settings. All your data will be automatically backed up to iCloud. You also have an opportunity to determine which apps will have their data transferred to the cloud. To do so, go to Settings, then iCloud, scroll to Manage Storage and choose Backups. Pick the apps you want to actually be backed up.
Set up manual or automatic backup
By default, iCloud backups would occur automatically when your iPhone is connected to a Wi-Fi network, plugged in and locked. Although your iPhone is set up to be automatically backed up, you can choose to do so manually. Go to Settings and in iCloud settings tap Back Up Now. iCloud can keep the backed up information from as much as three devices. However, to conserve storage space Apple has the right to delete all old backups if the user's iPhone hasn't been backed up for more than six months.