How to backup your iPhone using iTunes
Even though your iPhone conducts regular automatic backups to iCloud, backing up your phone manually using iTunes is a great idea if you're planning on buying a new phone or if you're installing iOS that's still in beta testing on your phone. An iTunes backup allows you to quickly restore your phone's information in full in case of a problem.
How to use iTunes to create an iPhone backup
First of all, you want to make sure iTunes is installed on your computer, open the program and connect your iPhone to the computer using your Lightning-to-USB cable, which is just your regular phone charger cable. Next, allow access to your phone when prompted with a message, unlock your phone and confirm the "Trust this Computer" message. You might need to use your PIN or thumb print to confirm this.
Set an iTunes backup password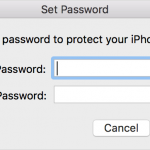 After this you should see a phone icon on the toolbar, go ahead and click on it, then click on Backups in the menu on the left. If order to protect your phone's data from unauthorized use and to back up data from Apple Health, HomeKit and password manager you need to encrypt the data. Just check the box next to Encrypt iPhone backup to do this and enter a reliable password that you can remember, you can't restore this password and if you forget it you won't be able to restore data using encrypted backups. If you have old backups that you forgot the password to, select Change Password and set a new password the the current and future backups.
Once the password is set, the backup will begin automatically, so just wait for a couple of minutes before removing the cord and disconnecting your phone. You can check if the backup file is there by clicking Latest backups. If you want to create another backup in the future you can just click Back Up Now when you connect your phone to your computer – you don't need to go through the whole set up process again.
Restore your iPhone using iTunes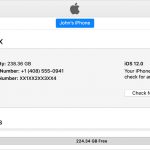 If you need to restore your iPhone data using an iTunes backup, you can do so in just minutes. First, turn off the Find My iPhone feature by going to Settings and tapping on your name that appears at the top of the screen in Settings. Then, choose iCloud and Find My iPhone. Just switch the setting to off and enter your Apple ID to confirm. Next, connect the phone to the computer using the cable, click on the phone icon in the menu on the left and find the Backups section. Then press the Restore Backup to restore data on your phone. If there's more than one backup file on the computer, you will be asked which one to use, and if you don't select anything the newest backup will be used to restore the data.