How to quickly turn your iPhone into a flashlight
Your iPhone lets you access the LED flash in its camera to use as a flashlight. Here are some simple ways how you can use this function.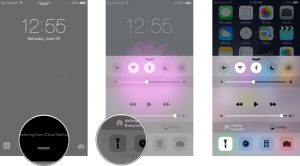 The totally old but classic way that works on every iPhone is to:
Swipe up to bring the Control Center
Touch the flashlight icon to turn it on. Although the icon used to be in the bottom left corner on all iPhones, now you have to make sure you can access the flashlight from your Control Center (check in Settings) because it might not always be there.
Use your phone as a flashlight to light things up.
Nowadays, with the new iOS update there are a couple more ways to turn on your flashlight:
Siri can turn the flashlight on for you. Just say "Hey, Siri" and then ask to turn the flashlight on. Same would work to turn it back off. If you don't have the "Hey, Siri" feature turned on just press the Home or Side button to turn the Siri on.
If you're a lucky owner of an iPhone X or a later one you can just wake your phone up and tap the flashlight icon in the bottom left corner of the screen.
By the way, with the 3D touch function you are also able to change the flashlight brightness. Touch the flashlight icon in the Control Center firmly and then change the number of stripes to increase/decrease the brightness.
To turn off the flashlight follow the same steps. If that seems like too much to do simply swipe left to open Camera and the flashlight will be automatically turned off.